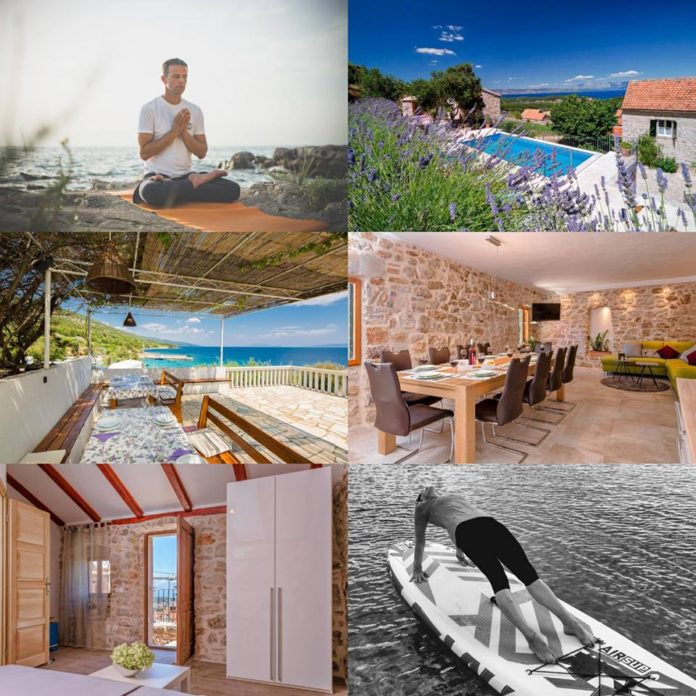 Join us for a magical week on the beautiful island Hvar in Croatia! Crystal clear sea, lots of sun and lonely beaches are the perfect place for a retreat.
Give yourself the gift of a week full of authentic yoga. Enjoy asanas, meditation, relaxation and yogic wisdom, to uplift your whole being and nourish yourself. Mindful movement, as well as spiritual talks, will bring you back to harmony and balance.
The island Hvar is the sunniest Croatian island and the retreat will provide you beautiful accommodation. What else would you need to relax, restore and have some days full of ease and joy?
There are two places to go, depending on the dates you choose: Pitve and Zavala. On you is to choose which one you prefer to stay.
RETREAT DATES:
11.5-18.5.2018. Zavala (Martina and Damir)
19.5-25.5.2018. Pitve (Damir)
8.6-16.6.2018. Pitve (Damir and Ivana)
8.9-15.9.2018. Pitve (Damir)
Your teachers:
Damir has about 20 years of experience in yoga and is teaching more than 10 years. He will teach and support you with your personal practice and changes. As an experienced Yogi, he has a lot to give and a broad variety in his teaching style. Teaching in English, Italian and Croatian.
Martina is not only teaching yoga asanas, but also loves the yogic wisdom, meditation and is trained in yogatherapy for perfect one-to-one support. Mindful movement, personal growth and empowering the students is her approach in teaching yoga. Teaching in English and German.
Ivana is a yoga teacher for dynamic yoga styles. Movement, body and breath are her eternal inspirations so her love for vinyasa flow yogs and the sensitivity she incorporates into her practice is not surprising.
As a certified SUP yoga teacher the essence of water is very important to her … being on the water is a unique way to achieve balance and inner peace, allowing to all senses to absorb the beauty of this practice … and it's fun too.
YOGA RETREAT HIGHLIGHTS:
• Well-balanced combination of exercise, relaxation and education
• Accommodation in a pleasant ambiance of the places in Pitve and Zavala
• Yoga and Pranayama practices for stress management and rejuvenation
• Meditation techniques to calm the mind and emotions
• Learn something new about yourself every day
• Healthy delicious diet (vegetarian, vegan and other meals)
• Daily yoga training
• Sup yoga in June – additional fee
• Massages every day possible – additional fee
LANGUAGES: English and Italian:
(one-to-one also in German in May)
PROGRAM:
The program will contain methods and techniques for working on a physical, mental, emotional and spiritual body. By stepping back from the all-day demanding life, you have the chance to relax on a deep level and let go of stress. Through this you may discover new abilities, and potentials, that are hidden under the surface waiting for you. You may have some insights and what you want to call into your life or where you are not yet living to your full potential. Above all, there is plenty of time to listen to your heart. To get to know yourself, is whats life all about – we can't promise you will make this in one week, but for sure you get a step closer! The talks and thoughts we are going to share with you from a yogic perspective, might open up deep insights.
This week will provide a pleasant atmosphere, healthy food, yoga in nature and beside all that time to explore the island.
Your daily schedule:
• 06:30 – 07:00 Awakening with tea
• 07:00 – 08:30 Yoga practices (sunrise meditation, asana, pranayama)
• 08:30 Breakfast
• 12:00 – 13:30 Lessons/Excursion/Free time
• 13:30 Lunch
• 14:00 – 18:30 Free time (swimming, relax)
• 18:30 – 19:30 Afternoon relaxing yoga and meditation
• 19:30 Dinner
• 20:30 – 21:30 Evening program (optional), chill time
Included are two free excursions:
• boat trip to island Šćedro
• trip to the top of island Hvar.
Please note: the two excursion days depending on the weather.
SKILL LEVELS: all levels are welcome
Group sizes: The maximum participants in the group in Pitve is 14 persons or in Zavala 22 persons.
What to bring: Please bring comfort and natural clothing. In case of occasional rain or cooling, don't forget sweater and socks. You can bring your own yoga mat but there will be enough yoga mats.
We are welcoming all who are looking for a yoga practice combined with yogic wisdom, not only movement but something that gives meaning to life.
Price starting from: 750€ (depends os the dates of your coming and it depends if you will choose single or double room etc).
Connect: [email protected]